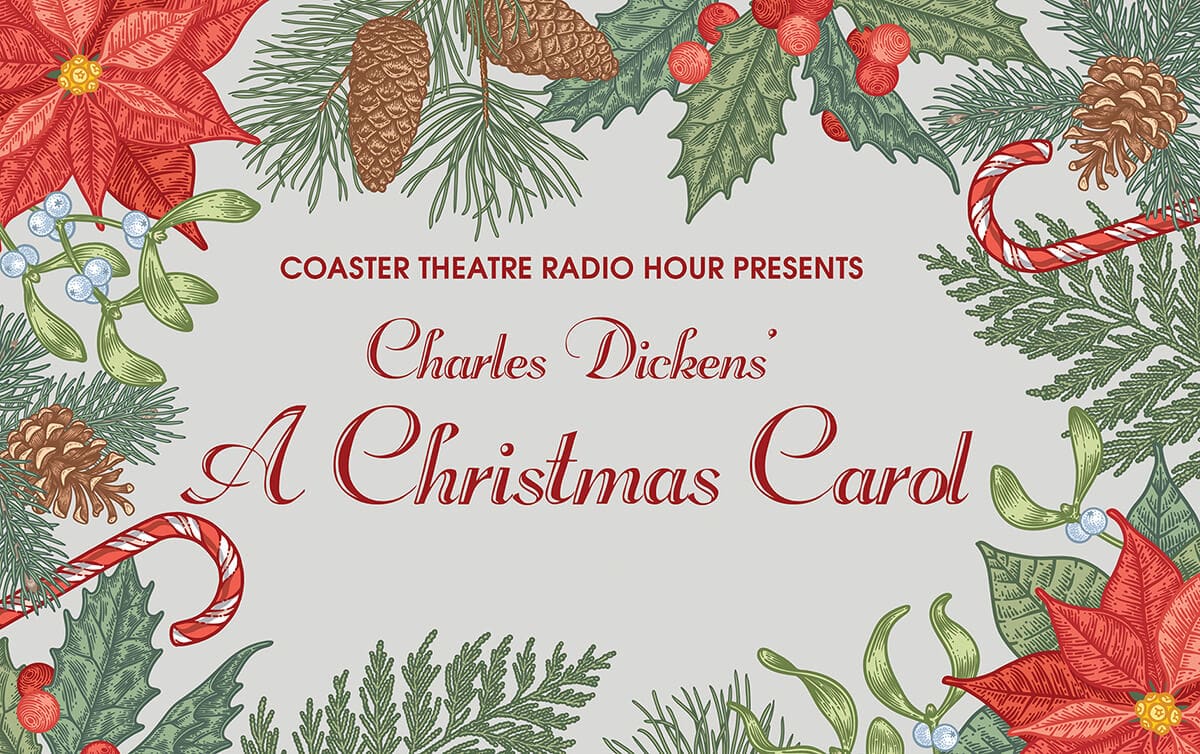 AUDITION NOTICE: CHARLES DICKENS' A CHRISTMAS CAROL
AUDITION DATES: Now through October 1, 2021
DIRECTOR: Mick Alderman
SHOW DATES: November 19 – December 18, 2021
AUDITION DETAILS
For this production we are requesting that actors' auditions be submitted via video recording.  You may use a camera phone, camcorder, webcam, etc.  Video quality is not important, but we ask that you position yourself close enough to the recording device that your voice may be clearly heard.
Download the audition packet (including sides) here.  Feel free to read for as many characters as you wish. See the audition packet for character information, submission instructions and audition sides.
At this time the Coaster Theatre is requiring that all our volunteers and staff be fully vaccinated against COVID-19. Please supply proof of vaccination; either show your original vaccination card or legible photocopy within your video, or include a legible digital copy with your audition materials.  We encourage everyone to read our COVID-19 Safety and Mitigation plan.
SHOW INFORMATION
The show will be held live on the Coaster Theatre Playhouse stage.
The Coaster Theatre Playhouse is excited to bring our 2020 Dickens Play Project to the stage this holiday season. This production is a radio style play written, workshopped and performed by our community and viewed virtually in 2020.
It is December 20, 1936 as the Coaster Theatre Radio Hour actors take their places to bring Christmas cheer to audiences during this turbulent time in American history. The story of A Christmas Carol is popular with children and adults of all ages. It has been adapted countless times and continues to urge us to honor the spirit of Christmas and keep it in our hearts all year round.
For those of you unfamiliar with the Coaster Theatre's history and our annual Dickens play, the fall of 1973 brought a gas crunch that left Cannon Beach wanting for visitors. Vicki Hawkins, then owner of the Cannon Beach Gazette, developed the idea of a Dickens theme with window decorations, food and costumes for the entire community at Christmas. Vicki came up with the motto, "The Low Lights will be the Highlights of Cannon Beach." She said the town was a natural for a Dickens theme – the shopkeepers dressed in clothing of the Dickens era; the kids wore wool caps, scarves, and leggings.
In keeping with the Dickens theme, the community decided to put on a Dickens play. The Dickens play became an annual tradition welcoming generations of North Coast families both on and off stage to the Coaster Theatre during the holiday season.