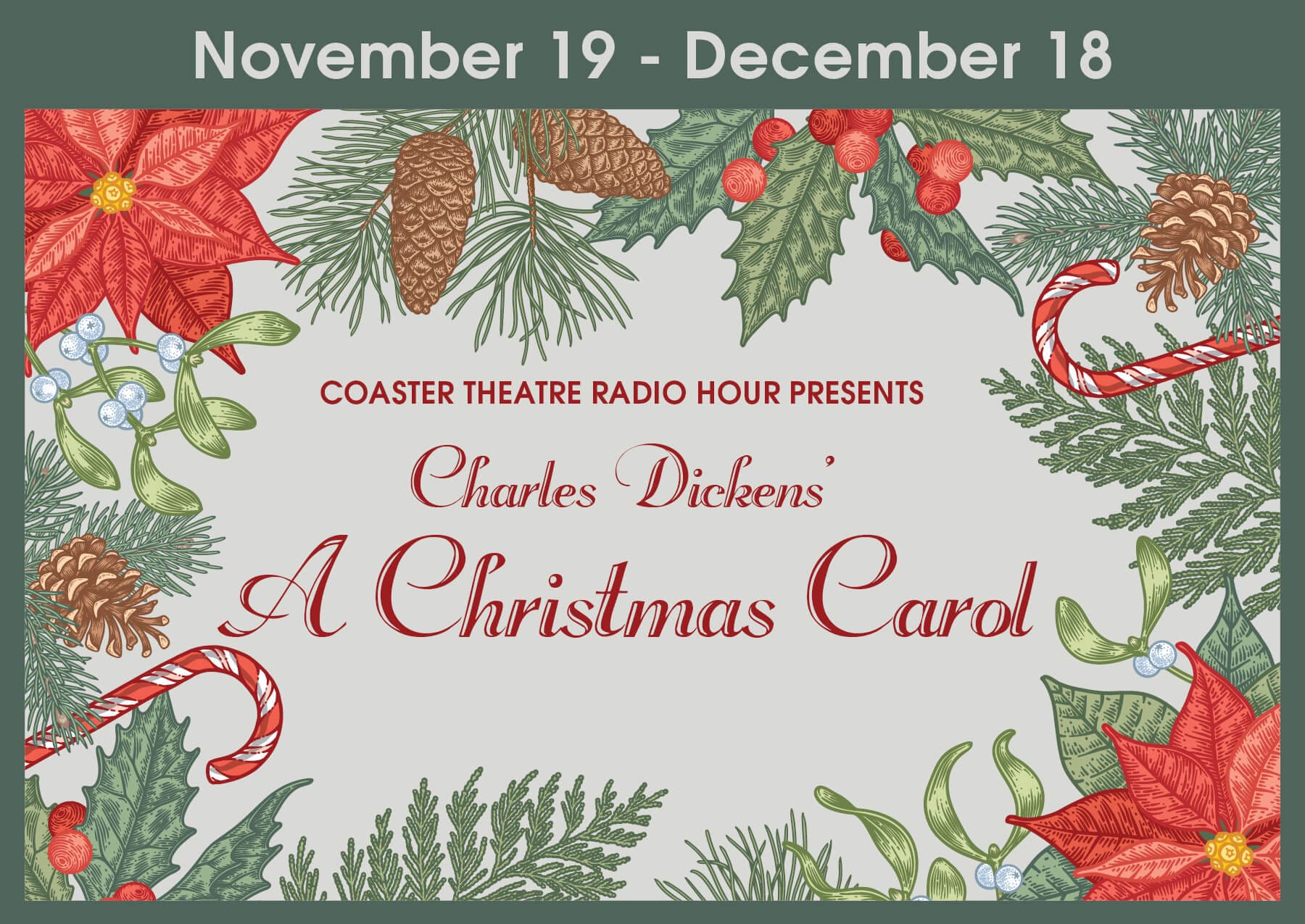 Coaster Theatre Radio Hour Presents
Charles Dickens'
A CHRISTMAS CAROL
DATES: November 19 – December 18, 2021
TIME: Performances begin at 7:30pm
TICKETS: $20. Tickets can be purchased online, at the theatre box office or by calling 503-436-1242.
CLICK HERE FOR FULL COASTER THEATRE CALENDAR
The Coaster Theatre Playhouse is excited to bring our 2020 Dickens Play Project to the stage this holiday season. This production is a radio style play written, workshopped and performed by our community and viewed virtually in 2020.
It is December 20, 1936 as the Coaster Theatre Radio Hour actors take their places to bring Christmas cheer to audiences during this turbulent time in American history. The story of A Christmas Carol is popular with children and adults of all ages. It has been adapted countless times and continues to urge us to honor the spirit of Christmas and keep it in our hearts all year round. 
For those of you unfamiliar with the Coaster Theatre's history and our annual Dickens play, the fall of 1973 brought a gas crunch that left Cannon Beach wanting for visitors. Vicki Hawkins, then owner of the Cannon Beach Gazette, developed the idea of a Dickens theme with window decorations, food and costumes for the entire community at Christmas. Vicki came up with the motto, "The Low Lights will be the Highlights of Cannon Beach." She said the town was a natural for a Dickens theme – the shopkeepers dressed in clothing of the Dickens era; the kids wore wool caps, scarves, and leggings.
In keeping with the Dickens theme, the community decided to put on a Dickens play. The Dickens play became an annual tradition welcoming generations of North Coast families both on and off stage to the Coaster Theatre during the holiday season.
All performances at the Coaster Theatre Playhouse will adhere to the Coaster Theatre's COVID-19 policies and procedures for staff, actors and audience members.
SPONSORED BY
The Clark Foundation
Mike & Tracey Clark
Brittney Clark & Chris Brooks
Candi & Jon Holzgrafe
Coaster Construction

WRITING TEAM
HEAD WRITER   Jenni Tronier
WRITER   Cal Beekman
WRITER   Becky Hosman
WRITER   Ryan Hull
WRITER   Kelsie Peterson
WRITER   Thomas Ryan
WRITER   Jeremiah Williams
PRODUCTION TEAM
DIRECTOR   Mick Alderman
STAGE MANAGER   Lucas Neuwirth
COSTUMER   Patrick Lathrop
LIGHTING DESIGNER   Mick Alderman
SET PAINTER   Juan Lira
LIGHT & SOUND OPERATOR   Lucas Neuwirth
PRODUCTION PHOTOGRAPHY   Bob Kroll Photography
CAST
FRANK JAGODNIK  Ebenezer Scrooge
NANCY MCCARTHY  Radio Hour Host, Narrator
TODDY ADAMS  Solicitor, Fan, Belle, Sarah,
Kathy, Laundress
LUCAS ETHRIDGE  Young Scrooge, Ghost of Christmas Present,
Shopkeeper
LEONARD HOGE  Tiny Tim, Party Guest, Belle's son,
2nd Businessman, Boy in Street
BENNETT HUNTER  News Announcer, Fred, Jacob Marley,
Belle's Husband, Undertaker
LIZ MCCALL  Mrs. Cratchit, Ghost of Christmas Past,Mrs. Fezziwig,
Party Guest, 1st Businessman, Charwoman
DAVID SWEENEY  Bob Cratchit, Mr. Fezziwig,
3rd Businessman