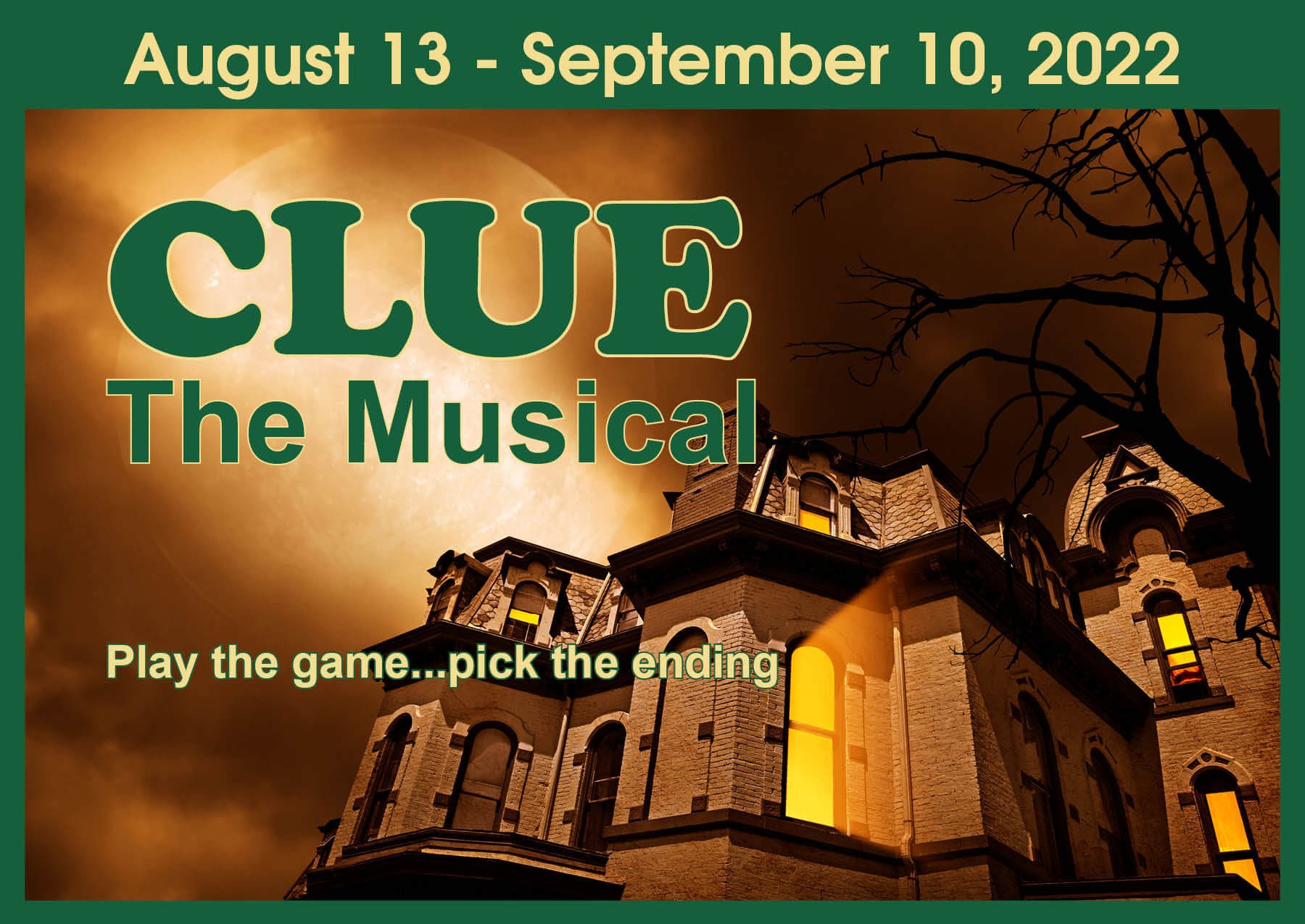 CLUE: THE MUSICAL
Book by Peter DePietro
Music by Galen Blum, Wayne Barker & Vinnie Martucci
Lyrics by Tom Chiodo
Based on the Parker Brothers' Board Game
DATES: August 13 – September 10, 2022
TIME: Performances begin at 7:30 p.m.
TICKETS: $30 and $25.  Tickets available online, at the theatre box office or by
calling 503-436-1242.
Click here for the full Coaster Theatre event calendar
PLAY THE GAME…PICK THE ENDING
The internationally popular board game has been turned into a fun filled musical which brings the world's best known suspects to life and invites the audience to help solve the mystery: who killed Mr. Boddy, in what room and with what weapon. Pay attention and deduce the solution from clues given throughout the fun filled evening; there are 216 possible endings!
CAUTIONS: If this was a movie it would be rated PG. There are some mild adult themes. Children who watch prime-time TV won't see much to shock them, but depending on the personality and exposure of your younger children, they may be confused. On the other hand, there are lots of fun musical numbers numbers, audience members get to play they game and even children who haven't reached the age of irony will likely have a good time. Your own judgement is the best guide for your family.
SPONSORED BY
Candi & Jon Holzgrafe
The Ocean Lodge
Inn at Cannon Beach
Lodges at Cannon Beach
Dennis' Seven Dees
PRODUCTION TEAM
DIRECTOR   Patrick Lathrop
STAGE MANAGER   Heather Hoffman
ACCOMPIANIST   Kirk Valles & Carson Schulte
COSTUMER   Sondra Gomez
LIGHTING DESIGNER & SET BUILDER   Mick Alderman
SET PAINTER   Juan Lira
SOUND & LIGHT OPERATOR   Nancy McCarthy
CAST
MR. BODDY   David Sweeney
MRS. PEACOCK   Shay Knorr
PROFESSOR PLUM   Bryan Lelek
MISS SCARLET   Toddy Adams
COLONEL MUSTARD   Patrick Lathrop
MRS. WHITE   Cathey Ryan
MR. GREEN   Bennett Hunter
DETECTIVE   Jay Johansen