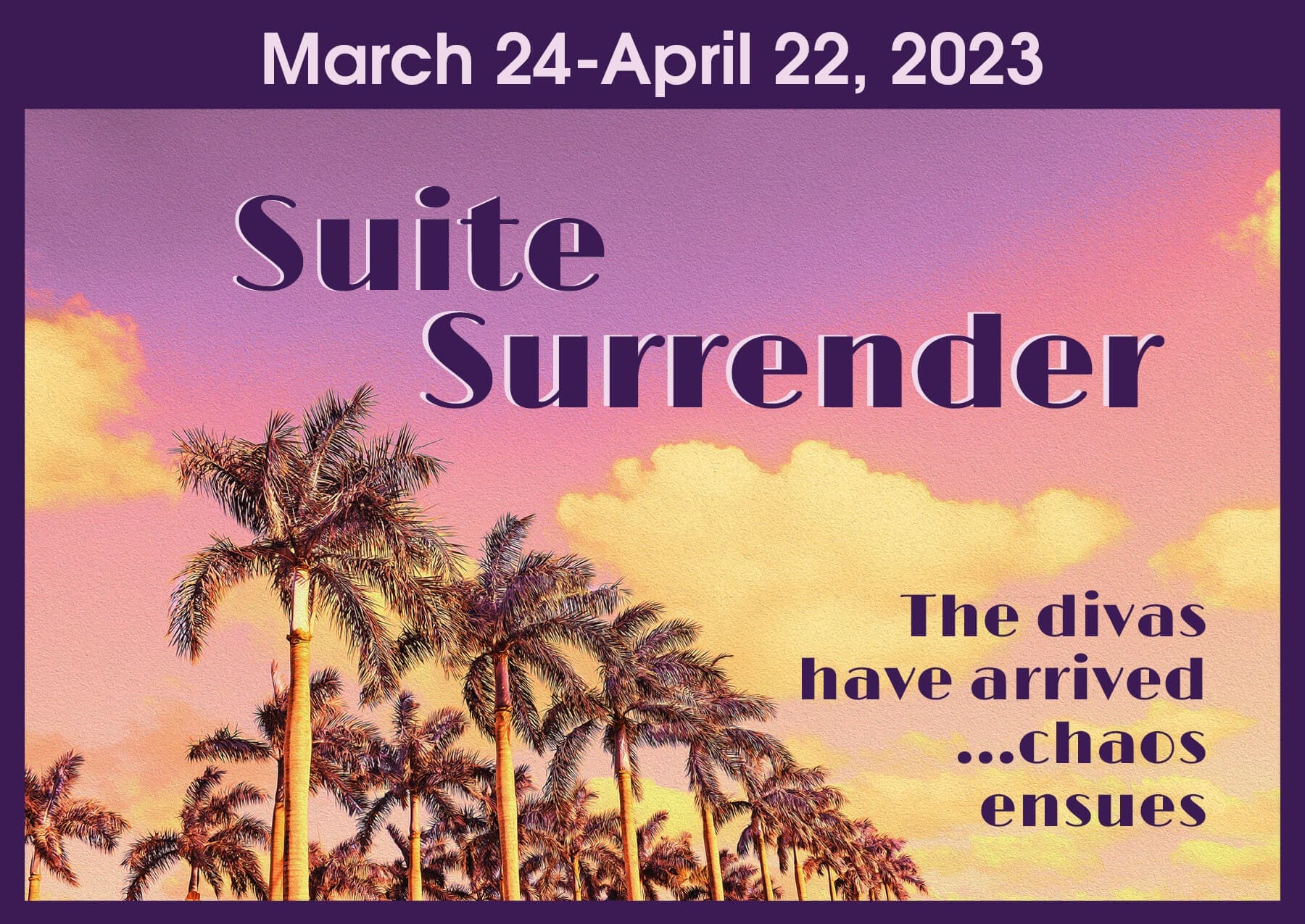 SUITE SURRENDER
Written by Michael McKeever
DATES: March 24 – April 22, 2023
TIME: Performances begin at 7:30 p.m. Sunday show starts at 3:00 p.m.
TICKETS: $25 and $20. Tickets available online, at the theatre box office or by calling 503-436-1242.
Click here for the full Coaster Theatre event calendar
THE DIVAS HAVE ARRIVED…CHAOS ENSUES
It's 1942, and two of Hollywood's biggest divas have descended upon the luxurious Palm Beach Royale Hotel — assistants, luggage, and legendary feud with one another in tow. Everything seems to be in order for their wartime performance…that is, until they are somehow assigned to the same suite. Mistaken identities, overblown egos, double entendres, and a lap dog named Mr. Boodles round out this hilarious riot of a love note to the classic farces of the '30s and '40s.
CAUTIONS: If this were a movie it would be rated PG. Suite Surrender includes mild adult themes. Pre-teens and teens who watch prime-time TV won't see much to shock them, but depending on the personality and exposure of your younger children, they may be confused. Your own judgment is the best guide for your family.
SPONSORED BY
Coaster Construction
PRODUCTION TEAM
DIRECTOR   John Hoff
STAGE MANAGER   Colleen Toomey
COSTUMER   Judith Light
LIGHTING DESIGNER & SET BUILDER   Mick Alderman
SET PAINTER   Juan Lira
LIGHT & SOUND OPERATOR   Nancy McCarthy
PRODUCTION PHOTOGRAPHY   Coaster Theatre Playhouse
CAST
BERNARD S. DUNLAP   Marcus Liotta
CLAUDIA MCFADDEN   Shay Knorr
ATHENA SINCLAIR   Cyndi Fisher
MURPHY STEPHENS   Toddy Adams
MR. PIPPETT   David Sweeney
DORA DEL RIO   Maren Kain
MRS. EVERETT P. OSGOOD   Cathey Ryan
FRANCIS   Carson Schulte
OTIS   Bryan Lelek