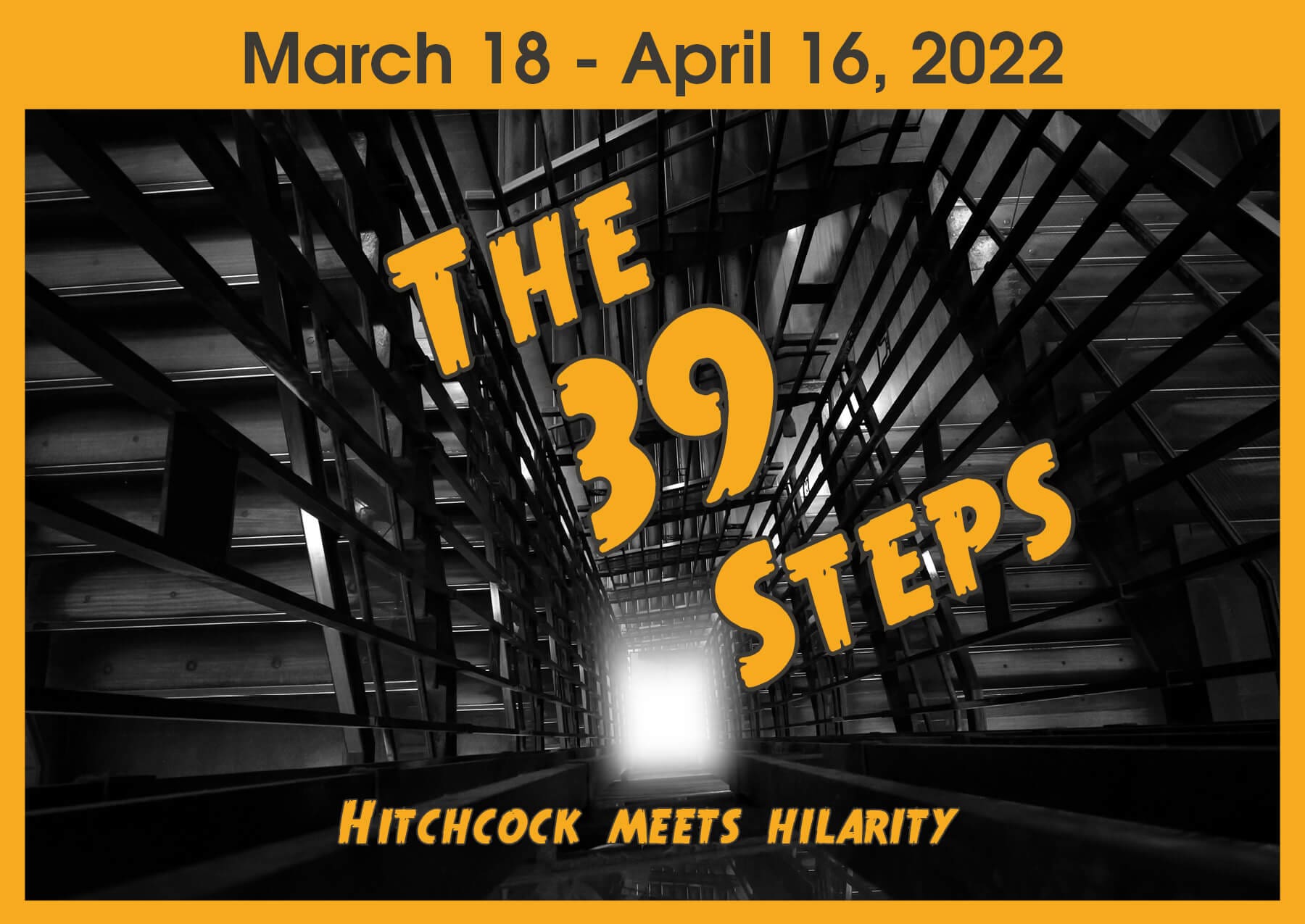 THE 39 STEPS
Adapted by Patrick Barlow
From the novel by John Buchan
From the movie by Alfred Hitchcock
Licensed by ITV Global Entertainment Limited
And an original concept by Simon Corble and Nobby Dimon
DATES: March 18 – April 16, 2022
TIME: Performances begin at 7:30 p.m. Sunday show starts at 3:00 p.m.
TICKETS: $25 and $20.  Tickets available online, at the theatre box office or by
calling 503-436-1242.
Click here for the full Coaster Theatre event calendar
HITCHCOCK MEETS HILARITY
Mix a Hitchcock masterpiece with a juicy spy novel, add a dash of Monty Python and you have The 39 Steps! This fast-paced whodunit is packed with nonstop laughs, over 150 zany characters (played by a cast of four), an onstage plane crash, handcuffs, missing fingers, and some good old-fashioned romance!
CAUTIONS: If this was a movie it would be rated PG. The 39 Steps contains some mild adult themes and violence. Children who watch prime-time TV won't see much to shock them, but depending on the personality and exposure of your younger children, they may be confused. On the other hand, there are lots of nonstop laughs and zany characters. Your own judgement is the best guide for your family.
NOTE: While we are encouraged by the federal and state changes to COVID regulations, at this time, we will continue to follow our industry guidance and continue to require proof of vaccination and masks for shows and events at the Coaster Theatre. We recommend checking our Health & Safety page or contacting our box office closer to your scheduled performance date for the latest information.
Please bring proof of vaccination (original vaccination card, legible photocopy or legible digital copy) with you to the theatre. Masks are required for everyone while in the theatre (regardless of vaccination status). Patrons may display proof of vaccination with a physical vaccination card, a legible copy of their vaccination card or a legible digital copy of their vaccination card in addition to a matching photo ID (children under the age of 16 are not required to show ID if accompanied by a parent or guardian).
EXEMPTIONS: The Coaster Theatre will offer exemptions for those unable to be vaccinated, such as children under 5, people with certain medical conditions preventing vaccination, or those with closely held religious beliefs that prevent vaccination. These patrons must provide proof of a negative COVID-19 PCR test taken within 72 hours of the performance start time in addition to a matching photo ID.
We encourage everyone to read our COVID-19 Safety and Mitigation plan prior to your visit.
SPONSORED BY
Mike & Tracey Clark
PRODUCTION TEAM
DIRECTOR   Mick Alderman
STAGE MANAGER   Liz McCall
COSTUMER   Judith Light
LIGHTING & SET DESIGNER   Mick Alderman
SET PAINTER   Juan Lira
SOUND & VIDEO OPERATOR   Lucas Neuwirth
LIGHT OPERATOR   Nancy McCarthy
STAGE CREW   Katrina Godderz & Daric Moore
ORIGINAL MUSIC   Jeffrey Swanson
PRODUCTION PHOTOGRAPHY   Bob Kroll
CAST
RICHARD HANNAY   Kurt Owens
ANNABELLA/PAMELA/MARGARET   Margo McClellan
CROFTER/PROFESSOR JORDAN   Frank Jagodnik
CLOWN ONE   Katherine Lacaze
CLOWN TWO   John Hoff