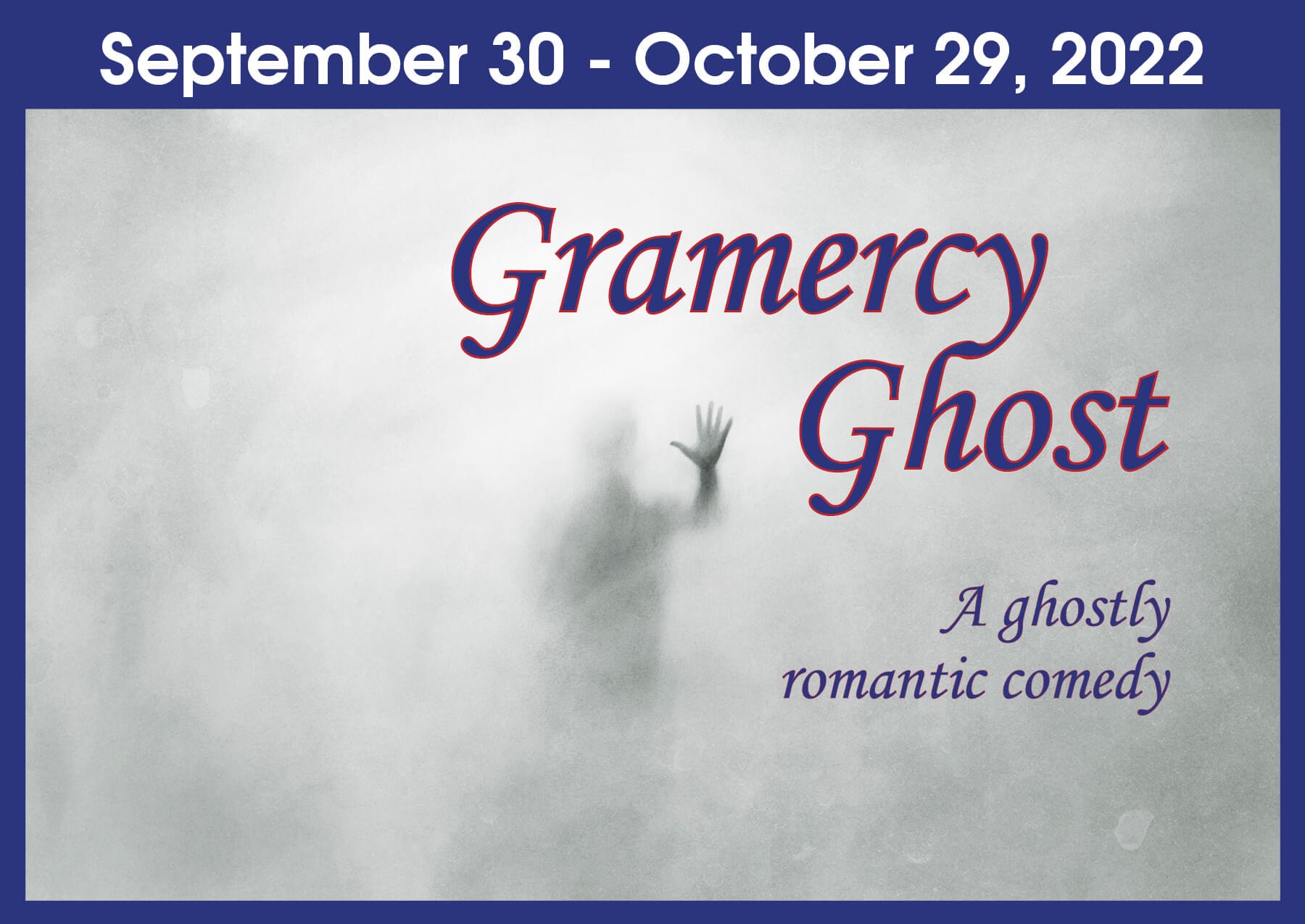 GRAMERCY GHOST
By John Cecil Holm
DATES: September 30 – October 29, 2022
TIME: Performances begin at 7:30 p.m. Sunday show starts at 3:00 p.m.
TICKETS: $25 and $20.  Tickets available online, at the theatre box office or by
calling 503-436-1242.
Click here for the full Coaster Theatre event calendar
A GHOSTLY ROMANTIC COMEDY
When Nancy Willard's landlady dies, Nancy learns that she has been left something named Nathaniel Coombes (a ghost) in addition to her house. Nathaniel is a young and handsome Revolutionary War soldier who was ambushed and killed in 1776 and is now doomed to an earth-bound existence as a ghost in the neighborhood of Nancy's apartment. Nancy, incidentally, is the only living being who can see Nathaniel.
CAUTIONS: If this were a movie it would be rated PG. Gramercy Ghost includes mild adult themes. Pre-teens & teens who watch prime-time TV won't see much to shock them, but depending on the personality and exposure of your younger children, they may be confused. Your own judgment is the best guide for your family.
NOTE: At this time, everyone must show proof of vaccination or a negative COVID test to enter the theatre the day of the performance. Face masks are optional but encouraged when attending a show at the Coaster Theatre. We recommend visiting Heath & Safety Information page or contacting the box office closer to the performance for any possible changes to the theatre's COVID policy.
Patrons may display proof of vaccination with a physical vaccination card, a legible copy of their vaccination card or a legible digital copy of their vaccination card in addition to a matching photo ID (children under the age of 16 are not required to show ID if accompanied by a parent or guardian).
EXEMPTIONS: The Coaster Theatre will offer exemptions for those unable to be vaccinated, such as people with certain medical conditions preventing vaccination, or those with closely held religious beliefs that prevent vaccination. These patrons must provide proof of a negative COVID test taken within 24 hours (home test) or 72 hours (PCR test) of the performance start time in addition to a matching photo ID.
SPONSORED BY
Rik & Caroline Godderz
PRODUCTION TEAM
DIRECTOR   Deanna Duplechain
STAGE MANAGER   Colleen Toomey
COSTUMER   Sondra Gomez
LIGHTING DESIGNER & SET BUILDER   Mick Alderman
SET PAINTER   Juan Lira
CAST
MARGARET COLLINS   Rhonda Warnack
NANCY WILLARD   Katherine Lacaze
PARKER BURNETT   Michael Murdoch
AUGUSTA AMES   M. Duck
CHARLEY STEWART   Marcus Liotta
NATHANIEL COOMBES   Sean Cooney
OFFICER MORRISON / ROCKY   Frank Jagodnik
IRV / AMBULANCE DRIVER   Cyndi Fisher
ASSISTANT DRIVER / GIRL   Molly Oien